Data Source Templates
30 Sep 2022

1 Minute to read
Data Source Templates
Updated on 30 Sep 2022

1 Minute to read
---
New Release Update
Database Engines has been renamed to Data Source Templates starting in Validatar 2022.3.
Overview
The Data Source Templates page is the place to create and manage all the various data engines that Validatar is connected to. Each data engine is listed on the main page, with the ability to add new engines through the New Engine button at the top of the page. The name of each engine is clickable and a detail page opens. The same detail page opens when you click the new engine button. Whether creating a new engine or editing an existing one, the detail page allows you to name or rename (required) and enter a version (optional).

Data Source Template Settings
Unlike some of the other detail pages within the Global Settings sub-categories, this page has a left-pane list with three sub-pages of data engine settings to create or edit.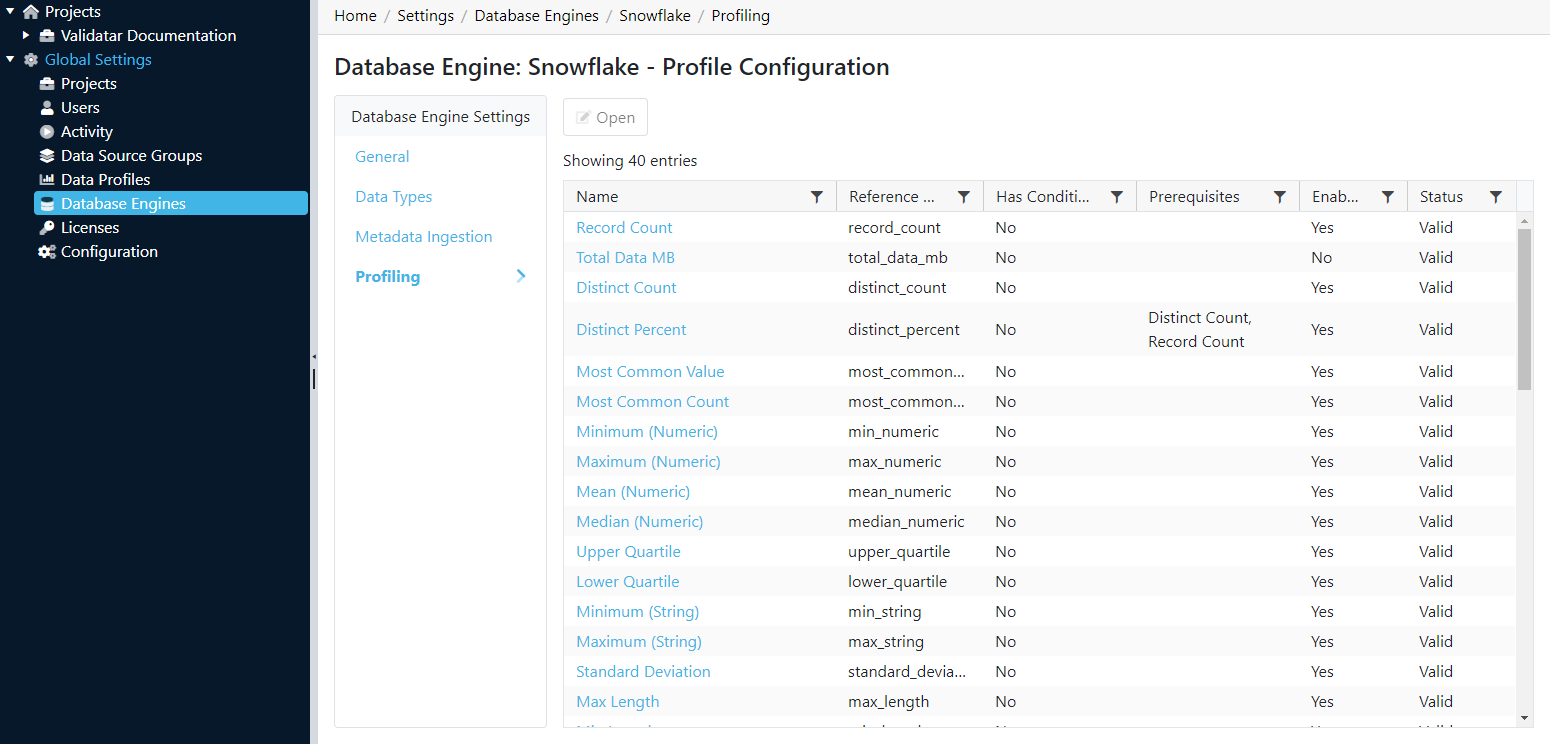 The Data Types sub-page allows the user to associate the Data Type with Mapped Type. The Mapped Type options are based on a dropdown menu of standard options, such as Boolean, Date/Time, and String. Mappings can be added and deleted on this page by using the appropriate buttons at the top of the page.
The Metadata Ingestion sub-page is the place for writing, storing, and managing SQL scripts for data engines. This page contains three separate tabs, Schema Script, Table Script, and Column Script. all of these scripts are required as part of the database engine information.
The third sub-page, Profiling, is to set the profile configuration. The Formula Type needs to be set to either Query or Calculation, from the dropdown menu in the Formula Type box. There is also an option to set the Grouping Key and Profile Condition. In addition, the Aggregate Formula and FROM statement (including optional WHERE clause) are defined on this page.
---
Was this article helpful?
---
What's Next