Reports Home Page
28 Jul 2023

1 Minute to read
Reports Home Page
Updated on 28 Jul 2023

1 Minute to read
---
Share feedback
Thanks for sharing your feedback!
Overview
A report displays detailed information about the tests, jobs, metadata, and profiles in Validatar. You can also embed Tableau Server dashboards in Validatar by creating a custom report.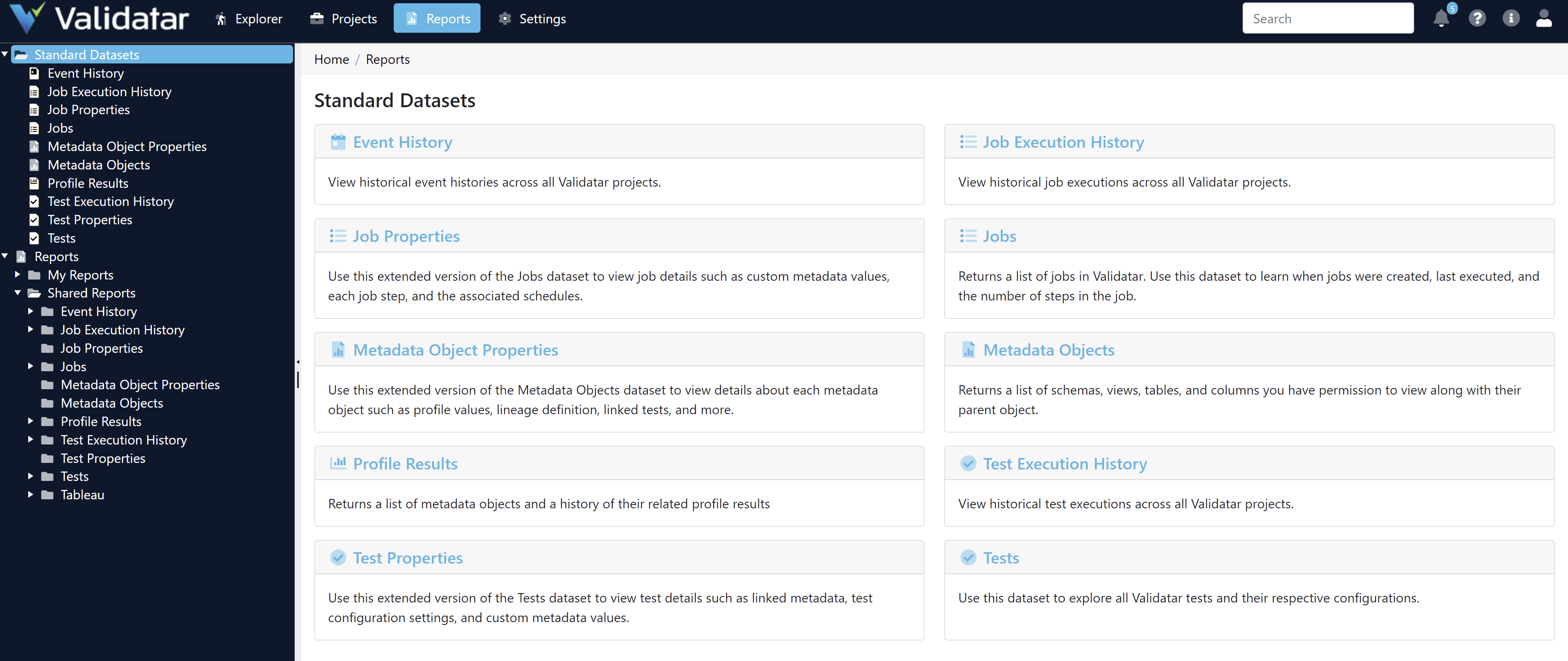 Why Use Reports?
Reports help to answer questions about the status of your data quality. Need to send a status update? Send a report instead. Want to get consistent notifications about tests executed during a period of time? Create and subscribe to a report that details that information.
How Reports Work
Reports are driven by built-in datasets. These datasets are, in turn, driven by secured views against the Validatar database. Want to create connect the Validatar database to your own reporting tool? Use the secured views to create visualizations and reports.
Each dataset can be viewed on its own or can be used to create a report which is shareable with the entire team. Create a report by selecting the dataset from the navigation pane and clicking Create New Report. Customize the report by editing the columns the report displays and adding filters to return specific information.
Standard Datasets
Tests: Explore All Validatar tests and their respective configurations.
Jobs: Returns a list of jobs in Validatar. Use this dataset to learn when jobs were created, last executed, and the number of steps in the job.
Metadata Objects: Returns a list of schemas, tables, and columns you have permission to view along with their parent object.
Test Execution History: View historical test executions across all Validatar projects.
Job Execution History: View historical job executions across all Validatar projects.
Event History: View historical event histories across all Validatar projects.
Test Properties: Use this extended version of the Tests dataset to view test details such as linked metadata, test configuration settings, and custom metadata values.
Job Properties: Use this extended version of the Jobs dataset to view job details such as custom metadata values, each job step, and the associated schedules.
Metadata Object Properties: Use this extended version of the Metadata Objects dataset to view details about each metadata object such as profile values, lineage definition, linked tests, and more.
Tableau Reporting
You can view Tableau Server reports and dashboards inside of Validatar by connecting your organization's Tableau Server account. Learn more about connecting to Tableau.
---
Was this article helpful?
---
What's Next