Configuring Custom Fields
30 Sep 2022

3 Minutes to read
Configuring Custom Fields
Updated on 30 Sep 2022

3 Minutes to read
---
Permissions Required
A user
must be a Custom Metadata Admin to create and modify custom fields configuration.
must have Browse Metadata and Data Profiling permissions for a data source to view catalog custom fields in the Explorer. View the full list of custom fields using the Metadata & Discussion tab on each metadata object level.
must have Edit Metadata permission for a data source to populate and modify custom field values.
Custom Fields appear on the following Validatar Editions:
| Edition | Custom Field Limits |
| --- | --- |
| Validatar Teams | Create up to 20 |
| Validatar Enterprise | Unlimited |
Using the Configuration Page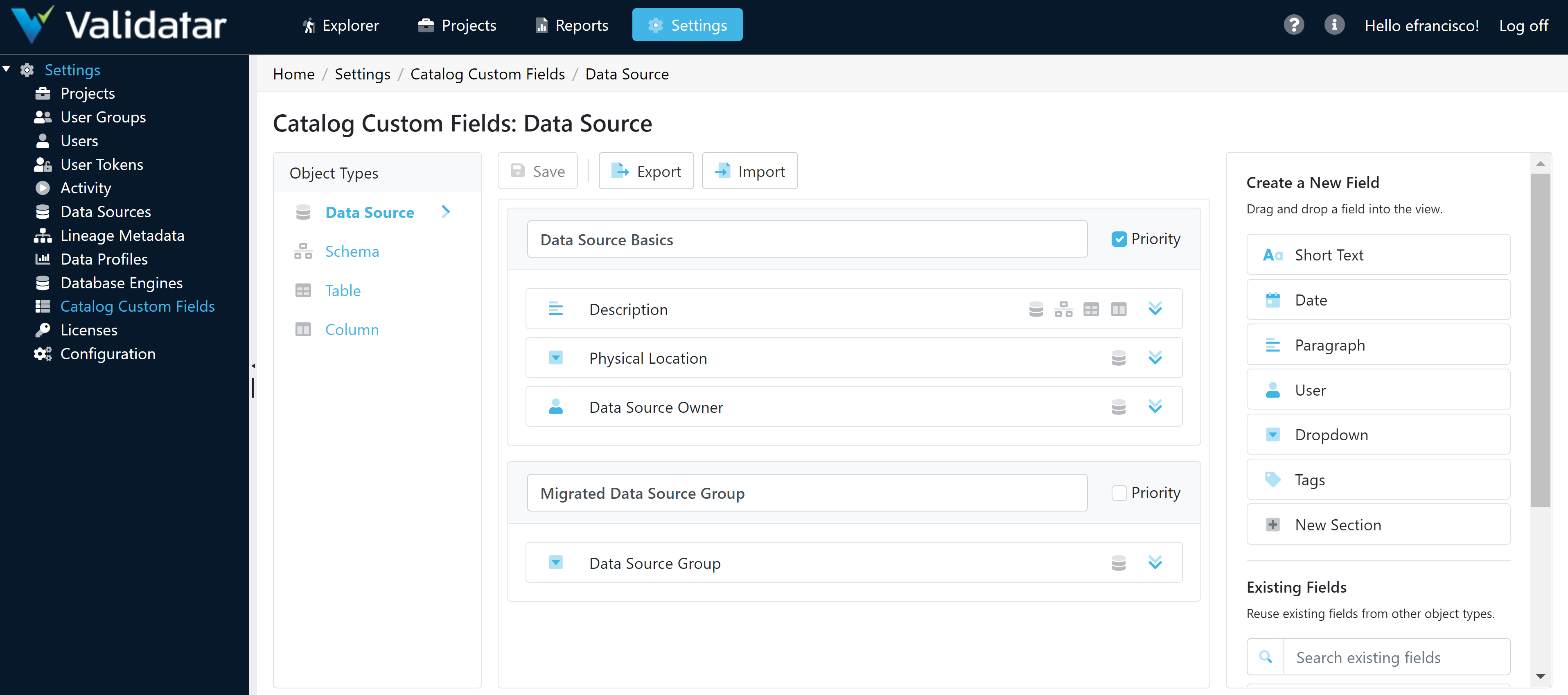 How it Works
Navigate to Settings. Then choose whether to configure Catalog or Project Custom Fields.
Use the Object Types pane to navigate to the object in which the custom field should be applied.
From the right pane, drag and drop a New Sectioninto the view.

Note: Fields cannot be created without a section.

Review the field types and drag and drop the appropriate New Field into a section.
Populate the field information. Only the name and reference key are required.
Click Save before navigating to a new object type.
Learn more about each component of a custom field below.
Object Types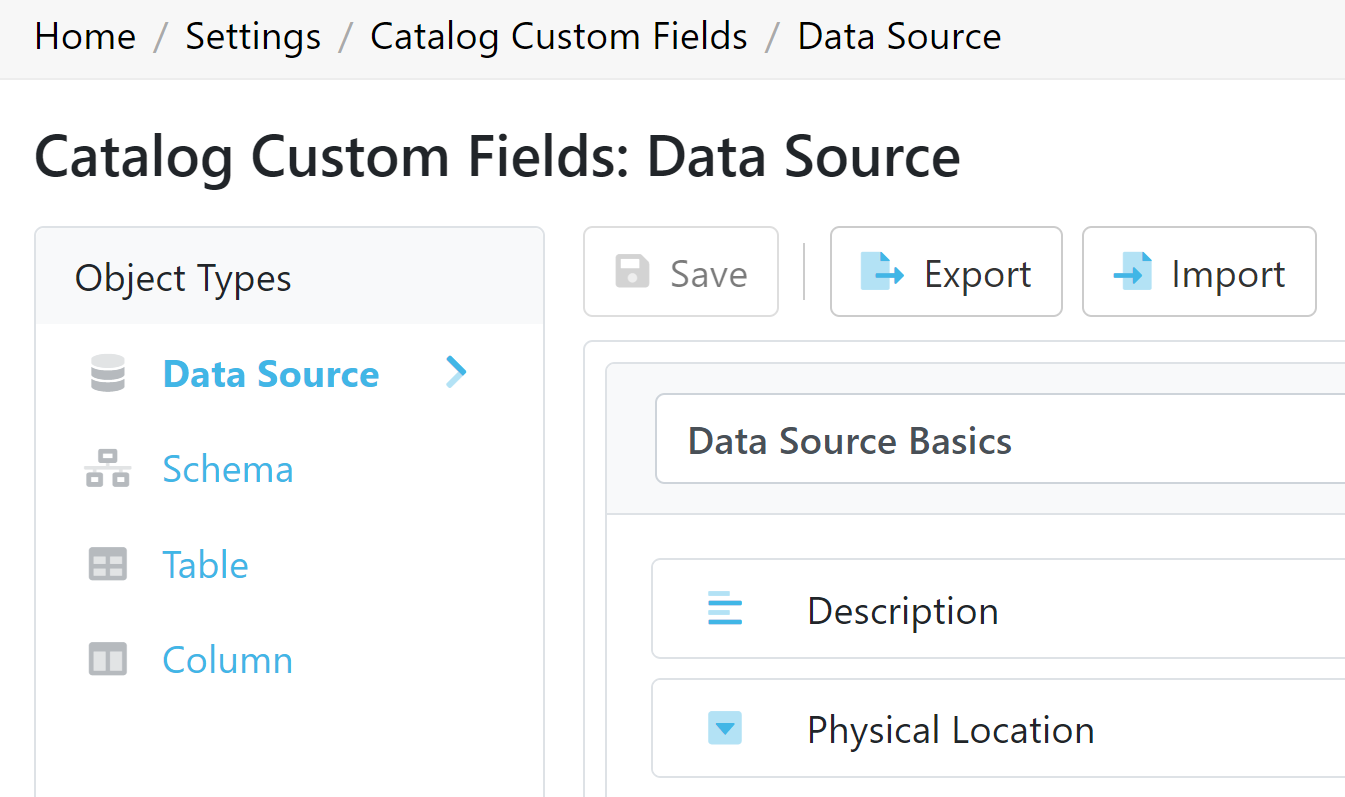 Object types are the metadata or Validatar objects where custom fields can be applied. These objects are:
Data Sources, Schemas, Tables, Columns
Projects, Tests, Jobs, Labels
Custom Fields created in Settings will automatically be applied to every data source in Validatar and its respective metadata objects unless you add logic that determines when to show the field.
Creating Sections
A section is a logical grouping of custom fields. Each custom field must be placed in a section, and a section name cannot be duplicated. If there are any duplicates, you must rename the section before saving it.
To create a section, drag and drop the New Section field into the view from the Create a New field pane on the right. Some sections will hold more significant information and require more visibility than others. To identify those sections, select the Priority checkbox next to the section name. Priority Sections will appear on the Summary tab of each metadata object in the Explorer.
Field Types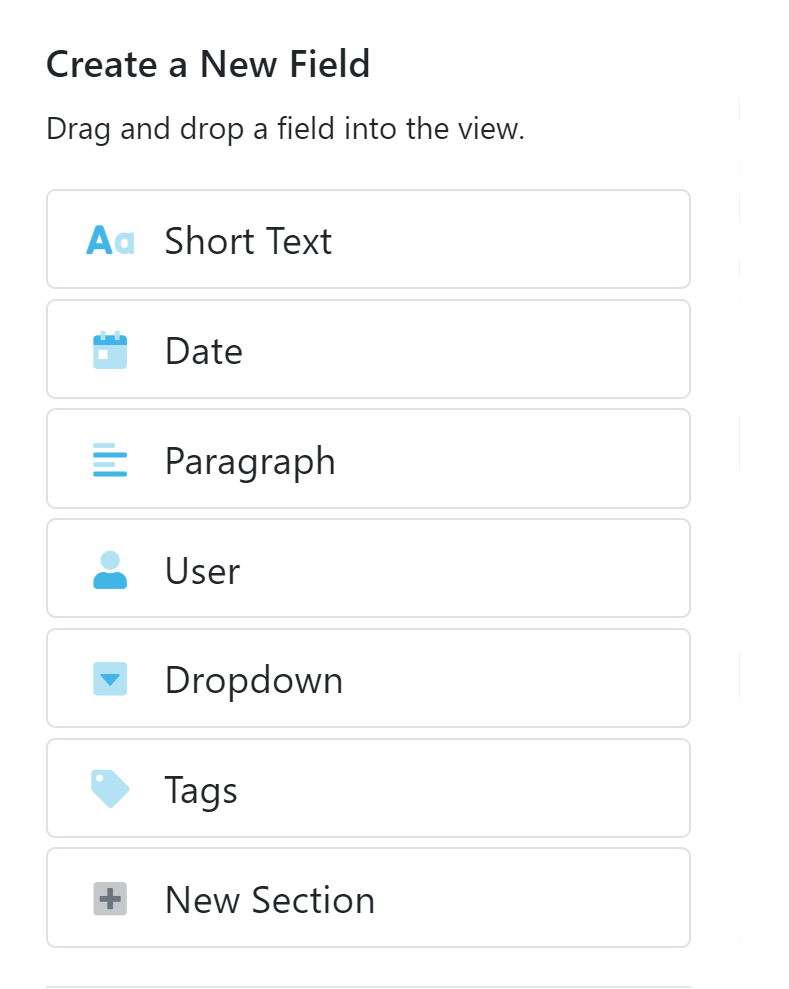 Building a custom field starts with the field type. There a six types of custom fields:
| Field Type | Definition |
| --- | --- |
| Short Text | Up to 300 characters of text |
| Date | A date in M/D/YYYY format |
| Paragraph | Up to 10,000 characters of text |
| User | One or more Validatar users or user groups |
| Dropdown | A single selection of defined options |
| Tags | One or more key terms assigned to information |
Creating a New Field
Drag and drop the chosen field type into a section from the Create a New Field pane on the right to create a new field. Enter the name and description of the field. The reference key, used to identify custom fields in tests, is automatically populated from the field name, removing special characters and replacing spaces with underscores.
If you create a field that you want to remove, click Delete and the bottom of the field.
Create all of the necessary custom fields on an object type, then Save. You must save before you can move onto another object type.
Dropdown Fields
Dropdowns are the only field type that requires further configuration than name and description. You must provide a list of valid options that can be selected in the dropdown.
On the field card, click Add Options under Dropdown Options and enter each valid value. Drag and drop each option to reorder them. Click the x to remove an option.
View how to create a section and dropdown custom field below.
Using Existing Fields
Once a field is created and saved, it becomes an existing field and can be used on other object types. The name, reference key, and description are brought into the new object type. This keeps the user from having to create duplicate fields.
For example, if you created a custom field called Technical Data Steward on the schema object type, you can reuse that field on the data source, table, and/or column object types.
Identify which object types the custom field is used by the icons next to the name. For example, the Description field is found on the data source, schema, table, and column object types since all four icons are next to the name.

Archived Fields
Newly created fields, meaning they haven't been saved, can be deleted. You cannot delete an object after saving it, but you can archive it. Archived fields can be restored by checking the Show archived fields checkbox in the right pane and dragging and dropping the field back into the view.
---
Was this article helpful?
---
What's Next